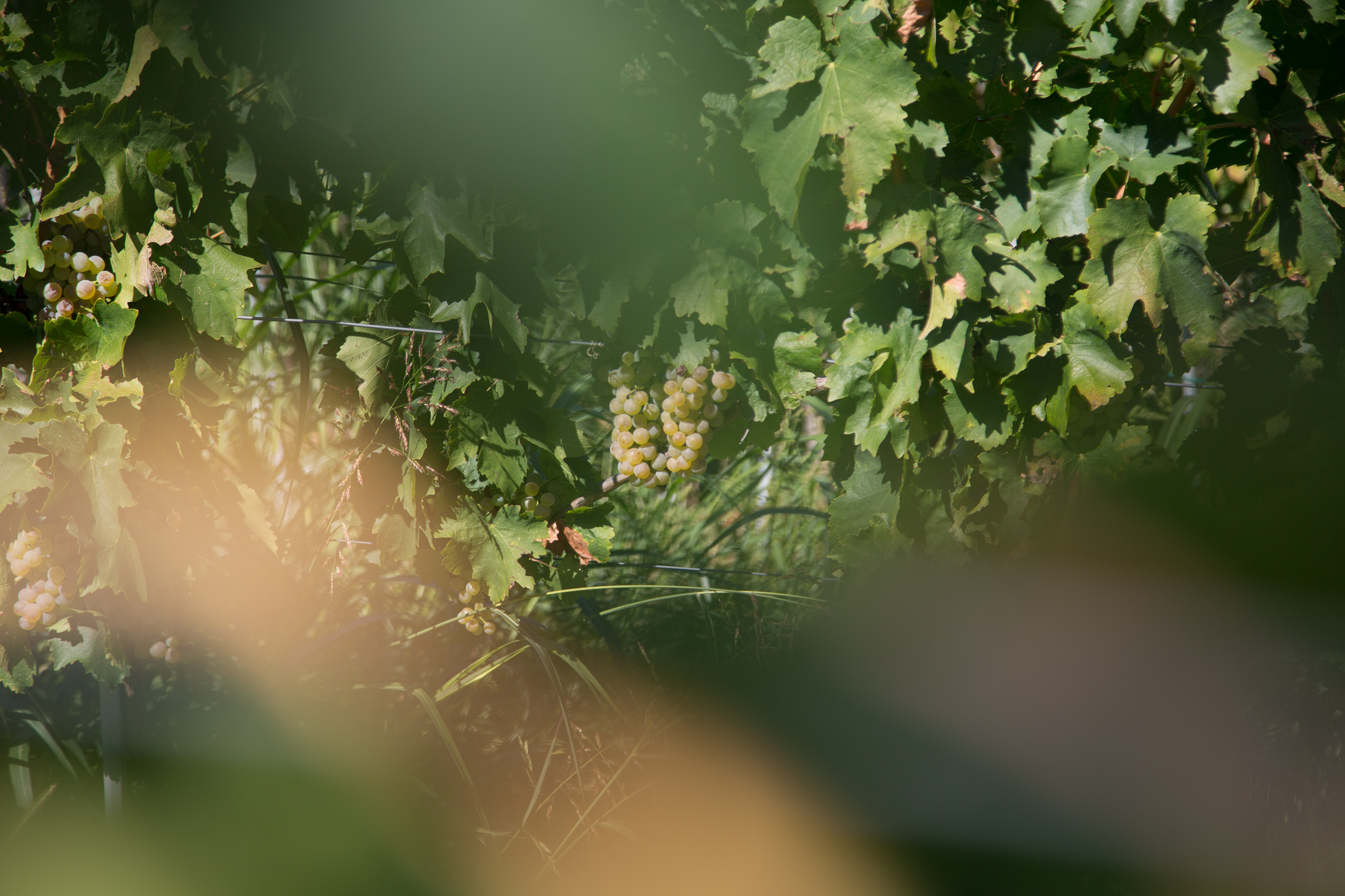 Verkat wines are produced with great respect for the grapes that we grow. 
Our goal is to use a responsible approach and dedication to develop further what grapes already carry within. By following the natural aromas and characteristics of each vintage and variety and with the application of limited processing, Verkat wines are unique based on their freshness, youth, balance, and a complex planet of aromas. 
We grow regional varieties that each has an important place within the culture of the region it originates from.
Malvasia, Grašac white, and Rose muscat are each home wines in their regions, wines of the people. You can tell the history of people's private life through these wines from Istra and Fruška gora. In that simplicity lies the uniqueness of these varieties. We want to emphasize their unique characteristics and show why precisely these wines are the ones that inspire people to come together each day.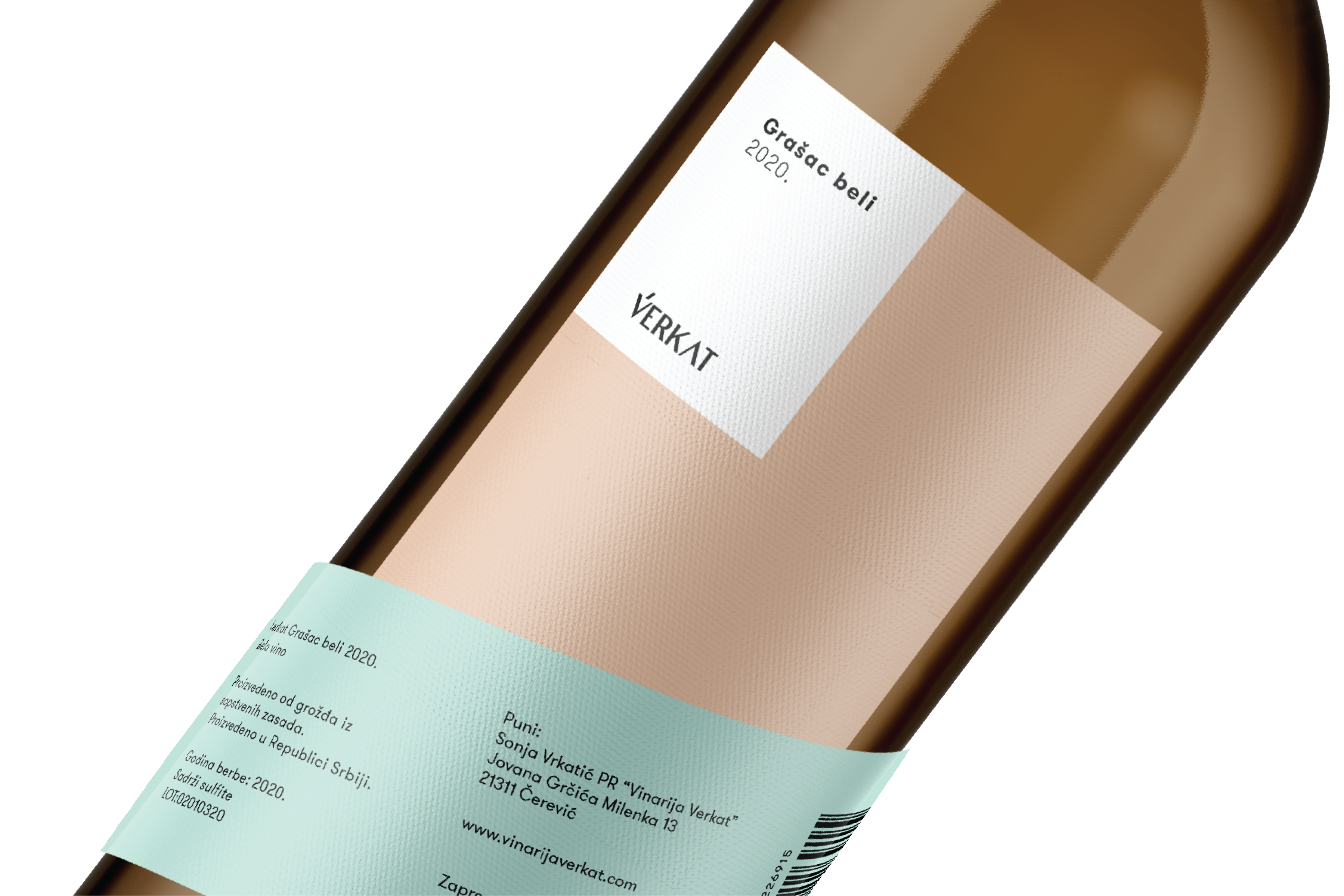 Verkat
Malvasia Barrique
2021
A light touch of oak, which contributed to the aroma and structure of the wine, is present in the ideal measure. On the nose, sparkling notes of citrus appear in combination with notes of bananas and graphite combined with a little vanilla.
Light yellow in colour with aromas of green apple, ripe wild pear and flint. Gastronomic wine, which requires a good bite for complete enjoyment.
Gold medal of the Balkan International Wine Competition, Athens, Greece, 2022.
Silver diploma, The World of Malvasia, Vinistra, Poreč, Croatia, 2022.
Top 50 Wines of Fruška Gora, 2022
Verkat
Grašac beli 4.0 2021
The special label Grašac beli 4.0 was created by the exceptional harvest of 2021, the fourth in our vineyard, in which a selected yield of only 400 grams per bunch produced this wine that justifies the great expectations and potential of the Grašac beli variety.
Platinum award, GROW du Monde, 2022.
Platinum medal, Best White Wine from Local Grape Varieties, Wine Vision by Open Balcan, 2022
Gold medal, Balkan Wine Competition Athens, Greece, 2022.
Gold medal, AIWC, Vienna 2022
Top 50 Wines of Fruška Gora, 2022.
A typical muscat scent, rose scent, intense, persistent and seductive. Notes of wild strawberries also appear shyly. Medium-bodied wine, with nice structure and pleasant bitterness in the finish.
Silver medal, AIWC Vienna, 2022
Bronze medal Wine Vision by Open Balcan, 2022
Young wine, light yellow with aromas reminiscent of melon, freshly cut grass, and yeast upon which it laid. Full-bodied with 14% alcohol, very well balanced.
Light yellow wine that smells of youth and freshness. Dominant are fresh citrus aromas, foremost yellow grapefruit, the mineral smell of stone, and the aroma of fresh yeasty bread.
Bronze medal Wine Vision by Open Balcan, 2022
Verkat
Malvasia Barrique
2019
Golden yellow wine with complex aromas that gradually open. At first taste, it is fruity and herbal, with aromas of sweet melon, hay, and a gentle nose of rosemary and fresh olives.
Light yellow color, young, brisk with a lot of pleasant bitterness, and a strong body with 15% of alcohol that demands food. The pronounced acids provide balance to the wine. Herbal aromas, foremost of hey, secondary are fruit aromas of melon and pear along with minerals, aromas such as flint.
Golden yellow wine delivers interesting aromas of flowers and grapefruit on the nose, followed by the aroma of pear peel and bread crust. Later on, herbal aromas open up, most of all freshly cut grass. When it comes to taste, there are naughty acids that are potent but not aggressive, with pleasant bitterness and minerality a medium intensity finish.
* AWC Vienna International Wine Competition Seal of Approval 2021
Top 50 Vina Fruške gore 2021
Srebrna medalja Balkan Wine Competition Sofija 2019
Pale salmon color, made from Muscat Hamburg variety. Very aromatic on the nose, fruity and candy-like. Aromas of red fruit and discrete rose. Strong acids and balanced body with increasingly fruitier notes as it develops in the bottle. Medium-long finish.
Lemon yellow wine of medium intensity. Crystal clear with pronounced viscosity.
The nose is harmonic, prominently mineral, and fresh, with hints of dried flowers and discrete grassy notes in the background. It opens in layers into a fresh golden delicious. It has a smooth taste, very juicy and fruity with apple peel in the finish.
* Srebrna medalja Beogradskog sajma Beowine za kvalitet 2020
Bronze medal  Balkan Wine Competition Sofija 2019
Golden yellow wine with fine intensity and crystal clarity. Its nose is well-developed and varietal. It is perfectly intertwined with flower and fruit notes with hints of spices in the background. It gives off a sense of a complete wine, full-bodied with a harmony of notes of fresh bread and a dash of vanilla.